Spanish up top, English Below:
En esta noche de Walpurgis me complazco en revelar que un par de copias de avance de "Las Escrituras Satánicas" han arribado desde la casa impresora! He retornado de una visita a "La Casa Negra" (The Black House) y estos cuentan con la aprobación del mismísimo Mago Peter H. Gilmore, por lo que ahora puedo revelarlos ante ustedes.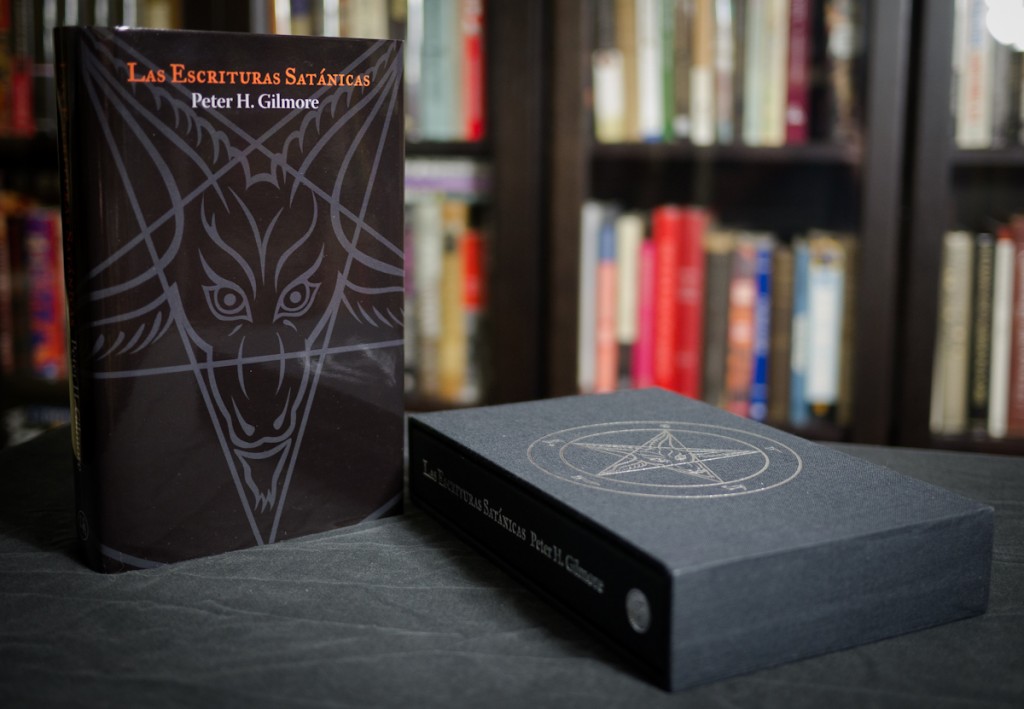 Esta semana el resto de los libros serán embarcados en una nave de carga en Singapur y comenzarán el viaje hacia los cuarteles generales de Underworld Amusements en Baltimore, Maryland. El tiempo estimado de llegada es de 6 a 8 semanas.
Una vez que estos hayan llegado, todas las "recompensas" del Kickstarter , que no necesitan ser autografiadas, serán enviadas. Todo lo que necesite ser autografiado/numerado por Peter H. Gilmore será llevado a la Casa Negra (the Black House) apenas haya llegado y serán enviados inmediatamente después.
Luego de ese punto cualquier pre-orden realizada por medios alternativos, luego que el Kickstarter haya terminado, será enviado. Luego de eso, cualquier nueva orden será llevada a cabo por vía normal, con libros en el centro de distribución de Underworld Amusements en Philadelphia, PA.
Siga la cuenta dedicada en Twitter: https://twitter.com/EscriturasSatan
Ver el sitio web: http://www.lasescriturassatanicas.com
On this Walpurgisnacht I am pleased to reveal that a couple advanced copies of Las Escrituras Satánicas have arrived from the printer! I have just returned from a visit to the Black House and they have met with the approval of Magus Peter H. Gilmore himself, and now I can reveal them to you!

This week the remainder of the books will be loaded onto a cargo ship in Singapore and begin the journey to Underworld Amusements headquarters in Baltimore, MD. Estimated time of arrival is 6-8 weeks.
Once they have arrived, all Kickstarter "rewards" will be shipped that don't need to be autographed. Anything that needs autographs/numbering from Peter H. Gilmore will be taken to the Black House soon after they've arrived and will ship soon after.
After that point any pre-orders done by alternate means after Kickstarter has finished will be shipped. Any new orders will be fulfilled as normal after that, with books at Underworld Amusements distribution center in Philadelphia, PA.